I don't usually post reviews of photographers on this blog, but Roger Ballen has had a massive impact on me since I discovered his book Shadow Chambers. He is now exhibiting a new series from his book Boarding House (Phaidon, 2009), with haunting images exploring the complex psychological world of the human psyche.
I interviewed him for the next issue of
Europa
, and took the liberty of reproducing it here.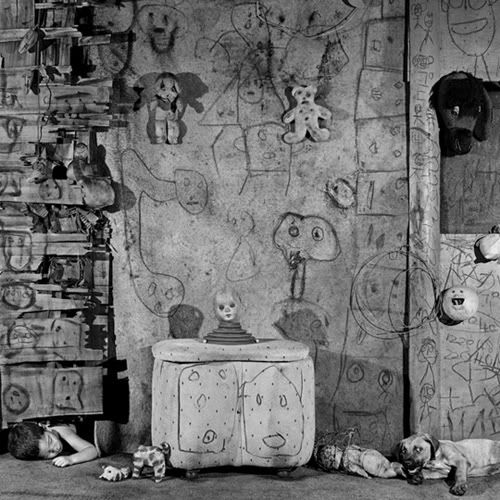 Rasha Kahil: The pictures are unsettling in the way that they are neither depicting the uncanny nor the sublime. They seem to portray a real that is rooted in the pathos of the human condition, yet depicted within an apparent fictitious space. How do these images reflect your view of the world, or alternatively, your view of the human psyche?
Roger Ballen: My photographs comment on the complex word that we loosely term as reality. Reality is ultimately impossible to define with words, perhaps images will provide some clarity.
It is my belief that the most challenging photographs are those that create a tension between what we refer to as the real and the imaginative.
My images symbolize the chaos around us and our inability to ultimately control our fate. In contrast to this world, my aesthetic is expressed in a very formalistic manner.
RK: You seem to have moved away from using identifiable portraits, and more towards anonymous bodies and hidden identities. Where we once were introduced to people inhabiting the space, you now seem to negate their identities. How do you negotiate the barrier that you now seem to create between the viewer and the subject?
RB: In my previous photographs, my subjects were so intensely powerful that they dominated the viewers perception. Without photographs of faces, the viewer is forced to look elsewhere in the image.
My images are not only about people: they are about animals, objects, and ultimately about a place or a world that most of us have been to in one way or another.
RK: Is there a relationship between the space you create and the setting of South Africa where you reside/work? Are you influenced by your surroundings?
RB: I have lived in South Africa for over thirty years. Over this period, I have had endless experiences which have shaped my identity. Nevertheless, my development as a photographer has been a very gradual one. In the end, I believe that the most important influence on my aesthetic have been the photographs that I have actually taken.
I have never been a photographer that has been overly interested in expressing my relationship to a social, political environment. My emphasis has always been on creating a psychological statement. To ultimately reveal what is hidden in my own psyche.
The Boarding House exhibition is on at
Hamiltons Gallery
, London until November 20th, and is definitely worth a visit for a beautifully unsettling afternoon out.